Please note that as of 25th June 2015 this site is no longer being updated, as I'm taking a wee break from it for a while to focus on other projects. Thanks for your interest and I'll post up as & when it's all back up and running.
My Top Ten
Glasgow Music Venues
Learn why the best Glasgow music venues
make this one of the most respected
music capitals in the world
The Lowdown | Top 10 Music Venues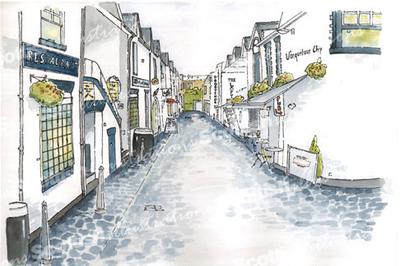 The Lowdown
The best Glasgow music venues? This City is famed for its rich, energetic and cutting-edge music scene. You're probably bored hearing about that, but take it from me, it's a reputation which is thoroughly deserved.

I regularly go to concerts & gigs in a plethora of Glasgow music joints, and take the view that whilst it's a City that continually attracts the biggest stars and shows in the world. If you visit Glasgow music venues at any point in the year, you'll also find plenty of local, emerging talent to entertain you. Some will make it to the big stage, some won't, but either way, visiting these Glasgow music venues whoever is playing will give you a true insight into the City's passionate, music-loving soul, what makes us all tick.
The reason that with live music Glasgow is so popular among the larger acts and those who are just starting out & trying to push the envelope, is that over the years we've developed a global distinction for being a brutally honest crowd.

When the performance is good, for example in a Barrowlands rock gig, you can be sure that your feet will simply struggle to find the floor, as you'll be swept up in an unflagging wave of hustle, noise & sweat which won't stop until the show ends. It's said on a regular basis by acts across the globe that Glasgow crowds thunder them with more spirit & energy than they'd get anywhere else in the world, even in the more tranquil, seated Glasgow music venues like the SECC, and despite my wearying bones growing older as time goes on, heading to some of the exhilarating concerts Glasgow lines up every year continues to fill me up with so much buzz, I could safely apply for the starring role in an advert for Red Bull!

When the performance is poor however, well, we won't be fooled. In the main (and despite how all the official websites try to gloss this over), we remain a people borne from a working class, hard-toiled neighbourhood, and if we hand over our hard-earned cash for a concert ticket & don't get entertained, boy will you hear about it! Our honest reputation hails from the WWII days of the former Glasgow Empire venue, where the story went among petrified acts that if you could win over the crowd at the Empire, you could conquer any audience in the world!

So whether the performance turns out to be good or bad, I'd strongly recommend that you just book a ticket for anything at one of these Glasgow music venues, and join in for an experience you'll never forget.
My Top Ten Glasgow Music Venues
These days, if you're looking for a great Glasgow music venue, here's my Top Ten. To find any of these venues on a map, just click here and type the name in the box.
1.

King Tut's Wah Wah Hut

 (St. Vincent Street, City Centre). 

Find Tickets

This legendary place picks up regular plaudits for being one of the best small venues in the UK. On any given night in the year you can walk down the steps and into a gig being pumped out by acts you'll be hearing about in 6 months' time, as it has a policy of booking acts before anyone else has evenheard of them.
Always busy, you can enjoy drinks at the bar then head to the tiny gig room where the mighty Oasis first blagged their way onto stage before being discovered, and where you'll be jostled around under an exploding blanket of noise until you emerge after the gig, head straight to the bar & wonder how soon you can return for more. Don't bother who's playing when you visit, just book a ticket from Ticketmaster or at the venue & go for the experience!
2.

The Glasgow Barrowland

(The Gallowgate, Glasgow). Find Tickets

Although many consider that O2 Academy has now surpassed it, my favourite of all the Glasgow music venues, the Barras, has been voted in the past the greatest venue in the UK, and moreover one of the top small venues in Europe.
It's got a capacity of about 1,900, and still plays host to some of the cooler, up-and-coming acts in the world, together with larger acts who are looking for a more intimate but explosive Glasgow music venue. It'll remain dear to my heart as the first place I ever crowd-surfed (for those not in the know, this is being hoisted in the air and carried on your back by the upstretched hands of the crowd until you reach the front & get sent back into the crowd by security - always make sure your wallet's safe in your pocket before trying this!) - an amazing experience everyone should try at least once! A gig at the Barras will leave you dripping in sweat but happier than Larry (and he really is pretty darn happy), so best to take something warm to wear when you get back out into the cold.
Again though, just book a ticket & go here - I've lost count of the number of times I've seen acts perform here and then at the SECC when they become more famous, but I leave wishing that they'd played the Barras again instead because of the superior atmosphere in this place.

3.

The SECC, Hydro & Clyde Auditorium. Find Tickets


Photography of Hydro by Neale Smith and Foster + Partners.
That said, the Scottish Exhibition & Conference Centre, or 'the SECC' for the clever people among us, is a Glasgow music venue which cannot be ignored. Despite having had a previous reputation for being so big & square, the acoustics left you feeling like you'd just entered a ghost town rather than a concert hall, nowadays with the addition of the architecturally genius Clyde Auditorium (or the Armadillo, as it's affectionately known in these here parts, with its world-class acoustics which have the tendency to make your ears hum with satisfaction) and the even more sparkly SSE Hydro which consistently pulls in the top acts on the planet, the SECC really has turned it around.
The three of these buildings together represent Scotland's premier performance venues, and putting aside the fact that they're booked out all year round with the top performers in the world, the transformation taking place all around it on the banks of the Clyde on its own makes this place worth a visit. It's a sheer pleasure for locals like me to watch the Glasgow Music Ladder shift into position - I've seen bands play in tiny Glasgow music venues like the Glasgow Garage, move up to King Tut's, become more famous and play the Barras or the O2 Academy, and graduate proudly to these joints once they've charmed a legion of screaming fans! Book early here to avoid disappointment though.

4.

The Glasgow Royal Concert Hall

(Buchanan Street / Killermont Street, Glasgow). Find Tickets




This is Scotland's premier music venue, and plays host to, among others, the best classical and world music you'll find in Scotland. It regularly features outstanding operatic events, and the world's most renowned orchestras such as the Vienna Philharmonic, but also Scotland's own award-winning Royal Scottish National Orchestra, and to ensure it's not classed as too snobby, even some of the bigger names in pop music and comedy.

I try to go here as much as possible, mainly to prove that I've still got some traditional cultcha (ie. culture!) left in me, but tend to leave it for Christmas when they always put on fantastic little concerts like the Christmas West End Musicals event - you'd have to be old Scrooge himself if you didn't get in the spirit after going to one of these!

5.

Drum & Monkey

(St. Vincent Street, Glasgow). Official Site

A 'must visit' for jazz lovers out there. To be perfectly honest, I've been a few times but as I'm not a great jazz fan, it's not my cup of tea, although I'm led to believe from those more in the know than myself that this joint is the place to go for the best jazz in Glasgow. Best time to visit is on a Sunday afternoon to the evening, as sessions are held at that time every week.
I also know that other notable jazz Glasgow music venues are the Old Fruitmarket and St. Andrew's in the Square, both of which are in the Merchant City. Apologies in advance though - because of the nationwide smoking ban in public places, no longer can you languish in a smoky hovel of solitude as I'm led to believe most jazz lovers prefer!

6.

13th Note Café

(King Street, Glasgow). Official Site




Whatever you do, just call it 'The Note' - you'll be seen as less of a tourist if you do! This place has given me plenty of treasure trove memories over the years. It's classed as a major player in the alternative Glasgow music scene, opening its doors every night to indy, rock & blues revellers (although I'm pretty sure I've seen a folk band from Finland play there before!), hoping to catch a glimpse of something new, something kitsch. Usually, we're not disappointed.
It has been known to smell a bit like feet on occasion, but don't let that and the scarily red walls put you off - this is a tiny giant (check the oxymoron in the back!) in the Glasgow music scene, and if you're in that neck of the woods you should head there at least once when you're here.

7. 

Tchai Ovna, West End

(Otago Lane, Glasgow). Official Site

OK, so this one might be a little controversial because it's not very well known, but for me, when it comes to unique, intimate gigs in Glasgow, Tchai Ovna is a venue to consider. A bohemian Czech teahouse during the day, it's around the corner from Glasgow University in the West End and is the type of place that exists only at the corner of your eye! Blink and you might miss it, but it's hugely popular these days and some of the trendier bands have settled down for a quiet performance here, even after they've made it (Franz Ferdinand being just one example). It was in the news in 2015 for having to switch its front door because of a landlord dispute, but thankfully the new opening is even more atmospheric at you walk in.
It's a venue in which you'll get an experience from the performance that just can't be recreated on a larger stage, that lottery-winning feeling that your favourite band's playing just for you in your front room, sharing a cup of tea with you when they're done. Compare that with being at the back of the crowd at Wembley!

8.

The Arches

(Argyle Street, Glasgow). Find Tickets

I remember that the List magazine once asked of this initially daunting but crazy popular Glasgow venue, how much one space could reflect the identity of an entire city? It mentioned that the Arches was the epitome of raw, slightly edgy, underground chic, and formed the creative heart of the city. A big statement, but one I readily agree with.
It may be geared up mainly for the clubbing nights, theatre, comedy & visual arts (I remember seeing here a play called Horses, Horses Coming in all Directions, which basically involved Tracey & I being watched by everyone at the start of the show, whilst a silent clown began hovering eerily around us before directing everyone in to sit underneath a huge blanket on the floor where dancers acted out a short story in the middle. Strange night that I don't think Tracey's ever forgiven me for!), but its dark, cavernous walls underneath the Central Station railway lines have also presided over some of the most electrifying & experimental live music you're ever likely to see. So it's definitely worth a pop if you can find the place!
Moreover, after its club was unceremoniously closed (temporarily?...) by the local licensing board in 2015 it should be supported as much as possible. The clubbing part of it may not be to your liking, but it pays for all the arts and music events. The people of Glasgow got round and raised an amazing petition to support the re-opening, so let's hope we see the place go from strength to strength in the future.
9.

Nice 'n' Sleazy

(Sauchiehall Street, Glasgow). Find Tickets

Nice 'n' Sleazy's created a template years ago for the standard Glasgow student pub & gig venue, and since then there's been a plethora of City Centre bars & Glasgow music venues which have simply copied the format with a change of name. Whilst its jukebox is internationally famous, it's known more for the live music it presents on a weekly basis.
The open-mic nights sometimes do tend to draw acts you'd prefer never to hear again, but in the main, it's a great little venue to relax, dress down and think you're cool in for a while. The main plus point? - The floors are no longer sticky since they did the place up, so if the music's making your ears bleed, you won't now be glued where you're standing and you'll be free to go upstairs for a liberating drink!

10.

Jinty McGuinty's

(Ashton Lane, Glasgow). Official Site

I just had to mention it, because I love everything Irish! There are loads of other Irish bars dotted around Glasgow, but if you're looking for the most traditional and quality Irish Glasgow music venues, Jinty McGuinty's in Ashton Lane (just off of Byres Road in the West End) is the place you'll find your stool.
Might be a little hard to squeeze your way through the packed throng for your Guinness, but once the music gets going and the bodhran starts pounding, you'll feel like you're in Galway itself. Sláinte!
Of course, there are many other Glasgow music venues which are perfectly good, and you'll see that I included earlier on an image of the Glasgow Carling Academy (or O2 Academy as it is now) which deserves a mention.
However, these are my own, personal Top Ten Glasgow music venues, and they may well change over time. In time I'll be adding a wee section to allow you to insert your personal favourite Glasgow music venues if you disagree with mine, but in the meantime please let me know if you think there are others I need to consider. 
---
Return from Glasgow Music Venues to Glasgow Events