Please note that as of 25th June 2015 this site is no longer being updated, as I'm taking a wee break from it for a while to focus on other projects. Thanks for your interest and I'll post up as & when it's all back up and running.
Glasgow Sports -
Our Lifeblood. Our Love.
Learn how our Glasgow sports culture
belies tired myths and fuels
the fire in our heart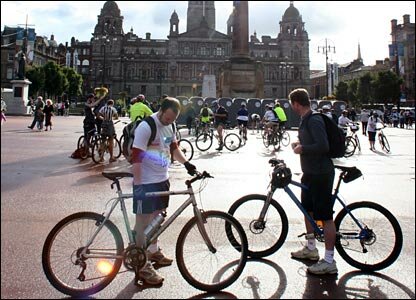 Sausage or Sport?
Think Glasgow, and you may conjure up an image of a man. A man of fat. And resting on this fat man's greasy, bulging, tracksuited belly is a plastic carton of deep fried sausage & chips. You might imagine, perhaps, that this fat man with his calorific supper, washed down of course in a polluted loch of beer, dreams only of avoiding his certain destiny of heart attack, liver failure and cancer by having his pathetic existence cut short by knife, gun or fist, living as he does in the poverty-fuelled criminal underworld that festers so infamously beneath this arterial disease of a city.

If that's the image that springs to mind though, you might wonder then why this little place, so often reputed as having one diabetes-riddled foot in the grave, amongst many other things was awarded:
host status for the 2012 UCI Track Cycling World Cup
the 2013 INFA World Youth Netball Championships
the 2013 UCI World Junior Track Cycling Championships
the 2014 Commonwealth Games
the 2015 IPC European Swimming Championships
the 2015 World Artistic Gymnastics Championships
the 2016 World Irish Dancing Championships
was one of the top bidders for the 2018 Youth Olympic Games
was chosen as the European Capital of Sport
was named the number one city in the world in terms of sports marketing and branding
was listed as one of the world's top 10 sporting cities at the prestigious SportBusiness Ultimate Sports City Awards, and
has a gold medal heritage rooting her right amongst those on the podium credited with the origins and continuing innovation of global sport. 
Maybe, just maybe, it's because this historical reputation foisted so lazily on my home town is nowt but a bucket of horse manure.

Jeez Scott, why so defensive?!!

In this section I try and explore why, in actual fact, we've such a high regard as one of the world's leading destinations for sport. I'll go into the top ten of Glasgow sports as far as I'm concerned, hopefully shaking off for you some of the tired myths long associated with this place, and maybe even inspiring you while you're here to enjoy a wee bit of our sporting culture and leave behind for a while the magnetic architecture and social energy for which we're more commonly famous.

Stopwatches at the ready... 

Top Ten Glasgow Sports
Links to each full guide will follow soon.
 1. The football of Celtic, Rangers and more 
 2. Our top arenas and venues to visit, use and enjoy
 3. My guide to the 2014 Commonwealth Games
 4. Glasgow's place in the history of sport
 5. The top sports to enjoy here other than football
 6. Getting, or staying, fit in Glasgow
 7. The best Glasgow sports shops
 8. Take part in Glasgow charity sports events
 9. Read all about it! - sports news sources for the City & beyond
 10. Find the where & when of sport events coming up

So I hope you enjoy my little section on Glasgow sports and don't end up as out of breath reading the thing as I was writing it. If you need any more information after pouring through my guide, well, to be honest I'll be in the pub recovering so best use the contact form on the site!
Return from Glasgow Sports to Home Page