Please note that as of 25th June 2015 this site is no longer being updated, as I'm taking a wee break from it for a while to focus on other projects. Thanks for your interest and I'll post up as & when it's all back up and running.
Yer Social Media Anawrat!
Here are the ONLY
social media links
you'll ever need. Ever.
 Facebook | Twitter | Site Updates
For all my ol' faithful stalwarts looking for their Glasgow updates in the Lobey Dosser Tribute Blog or the latest issue of zarraFAC, please note that these ancient relics of online updating have been replaced with a sparkly new Facebook page and even more shiny Twitter feed.
Yes, I railed against it for so long, but it got to the stage that given the technical labouring that went into updating the blog or writing the ezine, the relatively easy one-click magnetism of Facebook and Twitter finally dragged me into recognising that the only way I'd stay motivated to develop the site and keep it relevant was to give up my prior hatred of social media, roll up the sleeves and muck right in.
Also, feel free to add me on Google+ and pin & follow me on Pinterest, where I post up the best images of Glasgow I've seen:
Scott Docherty
Facebook Page
Take a look at my Facebook Page, first. Don't forget to click 'like'!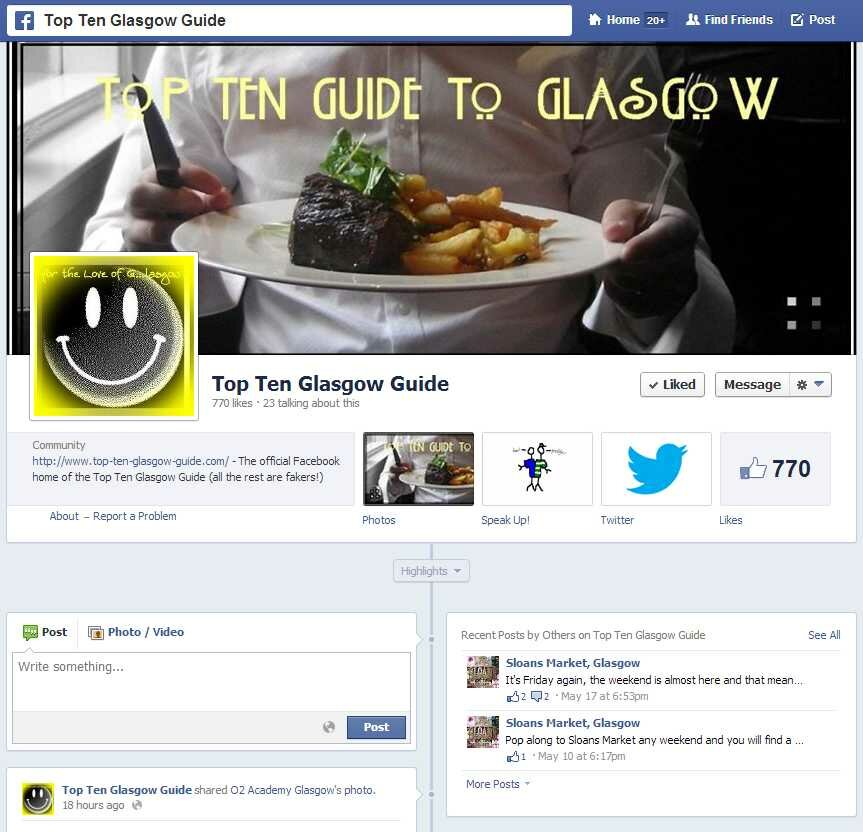 Here's a wee flavour of the patter on my Glasgow Twitter updates:
Tweets by @toptenglasgow
Online Newspaper: scott's daily glasgow
I publish a daily online newspaper via paper.li that you might also want to take a look at, as it shows you every day what's REALLY happening in Glasgow!
Top Ten Glasgow on Yelp
More recently I've joined the ranks of Yelp, and as often as I can remember I'll post up a review of whatever I see, eat or do in Glasgow. Feel free to add me as a friend, as otherwise I'll take it personally! ;-)
Top Ten Glasgow Guide Updates
Get the latest Glasgow updates direct to you! Click the big icon!

Just to keep up with recent happenings on THIS site.

Click on the icon to get the most recent feed happenings right in your RSS reader!
Top Ten Glasgow Updates
Updates for Top Ten Glasgow Guide (this site) include new articles on eating out, where to say, what to do, and how to find it all in Glasgow!
So there it is. Please feel free to "like" and "follow", as they say, and I'll fire my Glasgow updates to you as often as I get the chance, keeping you posted with upcoming events in the City, deals on restaurants and hotels, everyday news on things I think you might be interested in, and also on updates to the site (yeah right Scott!).
Thanks for staying in touch.
Scott
Return from Glasgow Blog to Home Page